382 Falmouth Road, Hyannis, MA. 02601
Highway Division
The Highway Division's goal is to protect, maintain and improve the Town's roadway system, parking facilities and drainage facilities in a manner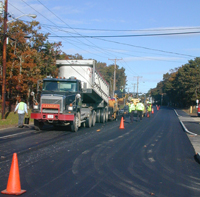 that promotes maximum life, improves traffic flow and enhances both pedestrian and vehicular safety; and to provide a level of routine and emergency repairs to certain town vehicles and equipment that maximizes their life and minimizes down time. The Highway Division is also responsible for the seasonal operation of the drawbridge in Osterville and a courier service that provides interdepartmental mail delivery.
Programs
Roadway Maintenance
The Roadway Maintenance program focuses on our core mission of infrastructure maintenance, deals expeditiously with daily complaints, strives to complete the preparations necessary for the following year's roadway resurfacing program and does a small amount of new construction. During winter storms, everyone works to keep our roadways passable.
The Division maintains a listing of all public and private roads within the town, as well as layouts of the town ways and many private ways.

Town Roads
The roadway maintenance program is responsible for 271.19 miles of town roads, 90 miles of town sidewalks, 4 miles of bike paths, 74 town parking lots, 6 bridges and 4,000 drainage systems on town roads. The maintenance functions include street sweeping, 92 gravel road gradings, 144 lane miles of road shoulder mowing and brush removal, and litter control on all 271.19 miles of town roads. In addition, the Division maintains 5,000 regulatory and non-regulatory signs on town roads, maintains 6,332 guardrails on town roads and provides pavement markings on town roads and parking lots.

Private Roads
Highway also performs emergency repairs on 200 miles of private roads and maintains street name signs on private roads.

Miscellaneous
Responsibilities include the Great Island drawbridge operation and a courier service to move interdepartmental mail and handle road kill disposal. A small office staff answers the telephone, dispatches, and deals with administrative matters and equipment and supply procurement for the Department.

Equipment Support
The Equipment Support program maintains a 22.5 unit fleet of vehicles which includes everything from automobiles to Zambonis. This service is provided for all divisions as well as Natural Resources, Weights and Measures, Recreation, Animal Control, Sandy Neck Rangers, and the Harbormaster. The Equipment support Program also maintains 24 traffic signals, 13 school traffic flashing lights, the Great Island drawbridge, and operates the municipal fueling depot.